SILKEN WINDHOUNDS
The Silken Windhound is truly a lagniappe hound. Silkens, these small, long-coated dogs fill an empty niche in the sighthound family. With true sighthound prey drive, Silkens love to run and chase. Their favorite place is still that of family member, making themselves comfortable on the sofa, bed, or other perfect resting place. While waiting for the recognition that will allow them to take their place beside their sighthound cousins in the show ring, Silkens are participating in lots of other canine activities, including agility, fun and games lure coursing, and pet therapy.

UKC CH Lagniappe Bijou Take Five
'Brubeck'

Wall of Ribbons
Perry, GA - Aug. 2013

UKC CH Lagniappe Bourée

UKC CH Lagniappe Coffee and Chicory - 4 BoB's, 2 Hound Group 1's; 1 Hound Group 2; 1 Hound Group 3
UKC CH Lagniappe Bijou Take Five - New CH (5 BoWs); 1 BoB; 1 Hound Group 1
UKC CH Lagniappe Bourée - New CH

Chicory
MRBIS UKC CH Lagniappe Coffee & Chicory
RBIS, Hutto, April 2013


Brubeck
Lagniappe Bijou Take Five
Born Jan. 1, 2012
UKC RBIS CH Lagniappe Coffee & Chicory ex ISWS CH Shelikof de Omega

| | |
| --- | --- |
| | |
| UKC RBIS CH & Rarities Int'l. CH Lagniappe Coffee & Chicory | ISWS CH and Rarities Int'l. CH Shelikof de Omega |


Best Puppy in Show
Great Southern Kennel Club
From Unlicensed Class at 14 Weeks


Great Southern Kennel Club
April 15, 2012
Chicory, Reserve Best in Show - Brubeck, Best Puppy in Show
New for Summer 2007. . .
don't miss our Lagniappe magazine ad with our new Champions!
in the new Silken Windhound publication!
Rarities Kissimmee Show - Jan. 2006
Punzi's 10th Birthday Coursing Celebration
Rapunzel a/k/a Punzi
Kristull Rapunzel
Born: March 14, 1998
(Kristull Flame ex. Kristull Nobunny)
Punzi becomes a Mom and has a gorgeous litter!
** SEE MY LITTER! ** born November 3, 2004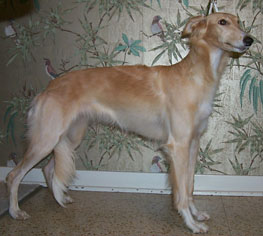 | | |
| --- | --- |
| Punzi Relaxing at Home | A Big Smile for the Camera |
---
PET THERAPY
| | |
| --- | --- |
| Punzi Gets Lots of Hugs | And Gives Lots of Joy |
| | |
| --- | --- |
| Everyone Wants to Pet Punzi | Now, at 2 years old, Punzi's a pro and knows exactly how to make someone happy. |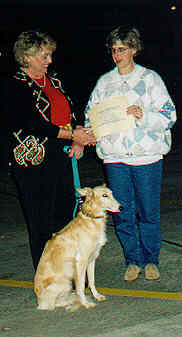 CANINE GOOD CITIZEN and THERAPY DOG INTERNATIONAL, Dec. 7, 2000
At 5 months of age, Rapunzel started her career with the Baton Rouge Capitol Area Animal Welfare Society (CAAWS) pet therapy volunteers. She stepped into our Reiche's paw prints as one CAAWS's most popular therapists.
Punzi is small enough to sit on a lap and big enough to reach down and pet.
On her first visit, she was passed from lap to lap like a bag of potato chips and let everyone handle her like a veteran.
Silkens have such wonderful personalities and are so gentle, they make the perfect little therapists.

---
GAELIC
Kristull Gaelic of Lagniappe
Kristull Teal'c ex. Kristull Dulce
Born: June 2000

A Mighty Huntress
First Squirrel at Five Months Old


An Agility Champion in the Making - Jumping the Gate is Puppy Play
---
SILKENS GO LURE COURSING
Punzi brought her running shoes!
GO Gaelic GO!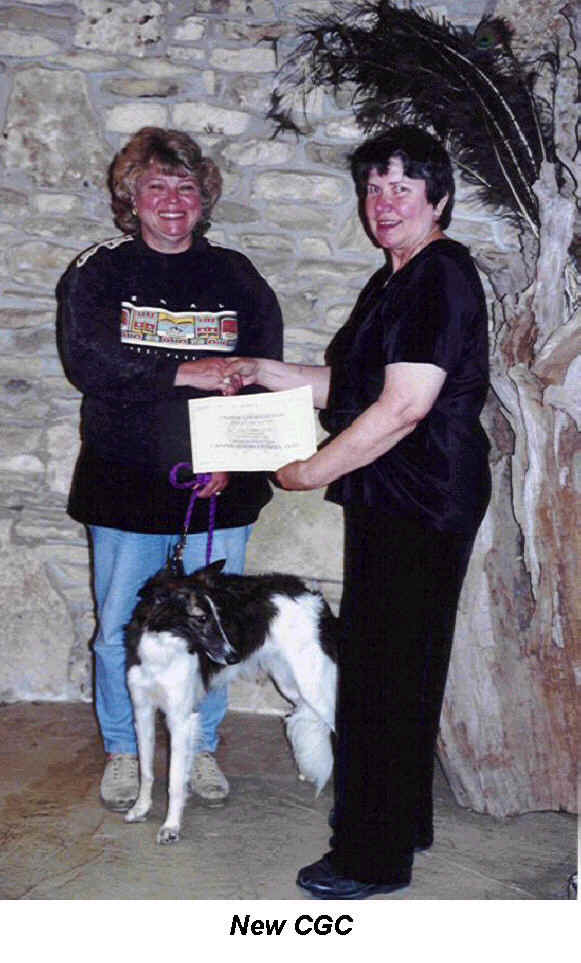 Gaelic, CGC
March 2001
---

Cool Run Lagniappe Agave
Summer 2006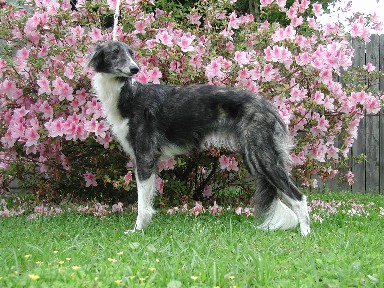 Cool Run Lagniappe Agave
Spring 2007
---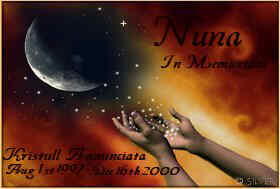 Nuna was a member of the Starcastle Hound family.
Her time on earth was way too short.
Lagniappe Hounds joins Starcastle in mourning her passing.


SILKEN WINDHOUND STANDARD
INTERNATIONAL SILKEN WINDHOUND SOCIETY
Home | Borzoi | Afghan Hounds | Silken Windhounds | Our Silken Litter | Mardi Gras Celebration